In 2004, I returned to the United States from Saudi Arabia in time for the Republican National Convention.1 MTV News hired me to cover the spectacle. Below runs day one of my five-day diary, recently rediscovered on a long-abandoned hard drive. More: The rest of this adventure can be read here.
Sunday, August 29, 2004
It's 10 in the morning. It's hot. It's sticky too. The sky's blue and two heavy-set women walk by. They're in the middle of a conversation.
"What's his business coming to Madison Square Garden?" says one. "He ain't done nothing for me." Her voice pitches at the end as if she was giving a good finger wagging.
So welcome George, and the rest of the GOP, to your home for the next four days. Your welcome wagon isn't so much of a welcome and not so much of a wagon. As I said, it's 10 am and it's getting hot. A couple hundred thousand people are gathering for a day of protest.
I'm wandering around Union Square, listening to Tara Colon of the Poor Peoples Economic Human Rights Campaign (PPEHRC) speak from a stage set up on the north side of the park. The woman's angry and gives a well-received rant about economic terrorism here at home. This is the real terrorism, she says about the lack of healthcare, jobs and housing in the country. This is the terrorism waged against the poor each day.
Colon hits her stride, her voice rises in righteousness, she has the crowd hanging on her words and then kind of wipes out.
"More poor people die in this country because of economic terrorism than in Afghanistan, Kuwait…" she pauses to catch herself and I pause to catch whatever it was that she just said, "and Iraq."
Kuwait? Never knew we had something going on over there but I'll give her a pass. I'm impressed that Kuwait aside, this woman's gone from homelessness to addressing a throng with ranting conviction. "We will not die quietly," she rages.
The PPEHRC came to New York after marching through New Jersey and I first met up with them last week when they played basketball against the Billionaires for Bush. They're now living in a Bushville Tent City set up on Myrtle Avenue in Brooklyn.
I'm thinking about this as a band called Outer National comes onstage. They're kind of like Rage Against the Machine, just lighter on the metal, heavier on the ska. They're actually pretty good and I flip through the New York Times.
I start reading a piece about how the Democrats are trying to distance themselves from the protesters and any potential mayhem on the streets.
It's fairly straightforward and runs through the fact that they don't want the election to rehash 1968 in Chicago where Nixon pulled a silent majority out of his hat, ran on law and order and basically held up his hands saying, "You want the security of me, or some pinkos bent on destruction of the American way."
That's all well and good. Here's a quote from Democratic National Committee Chairman Terry McAuliffe. "We have no connection to any of the protesters," he says.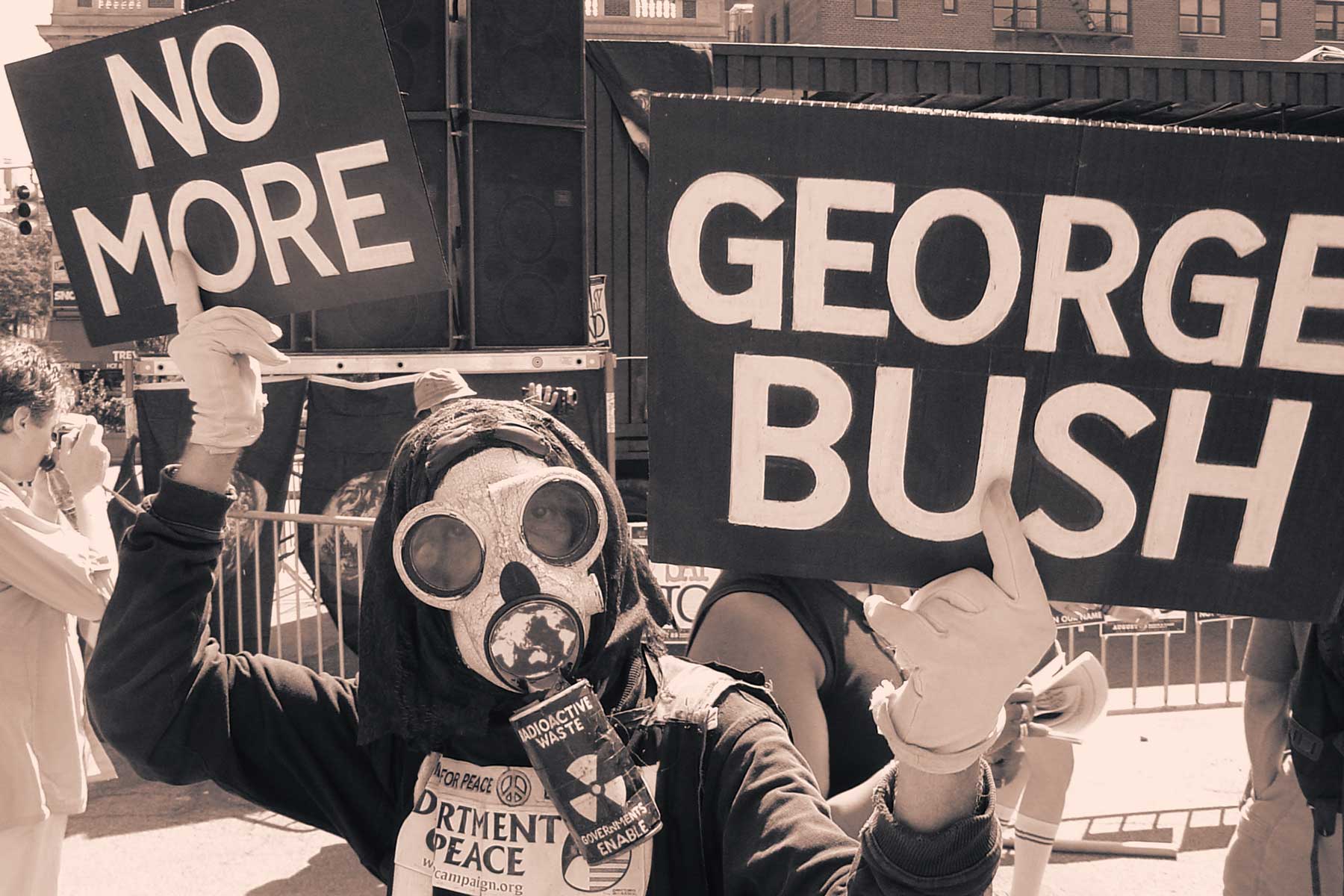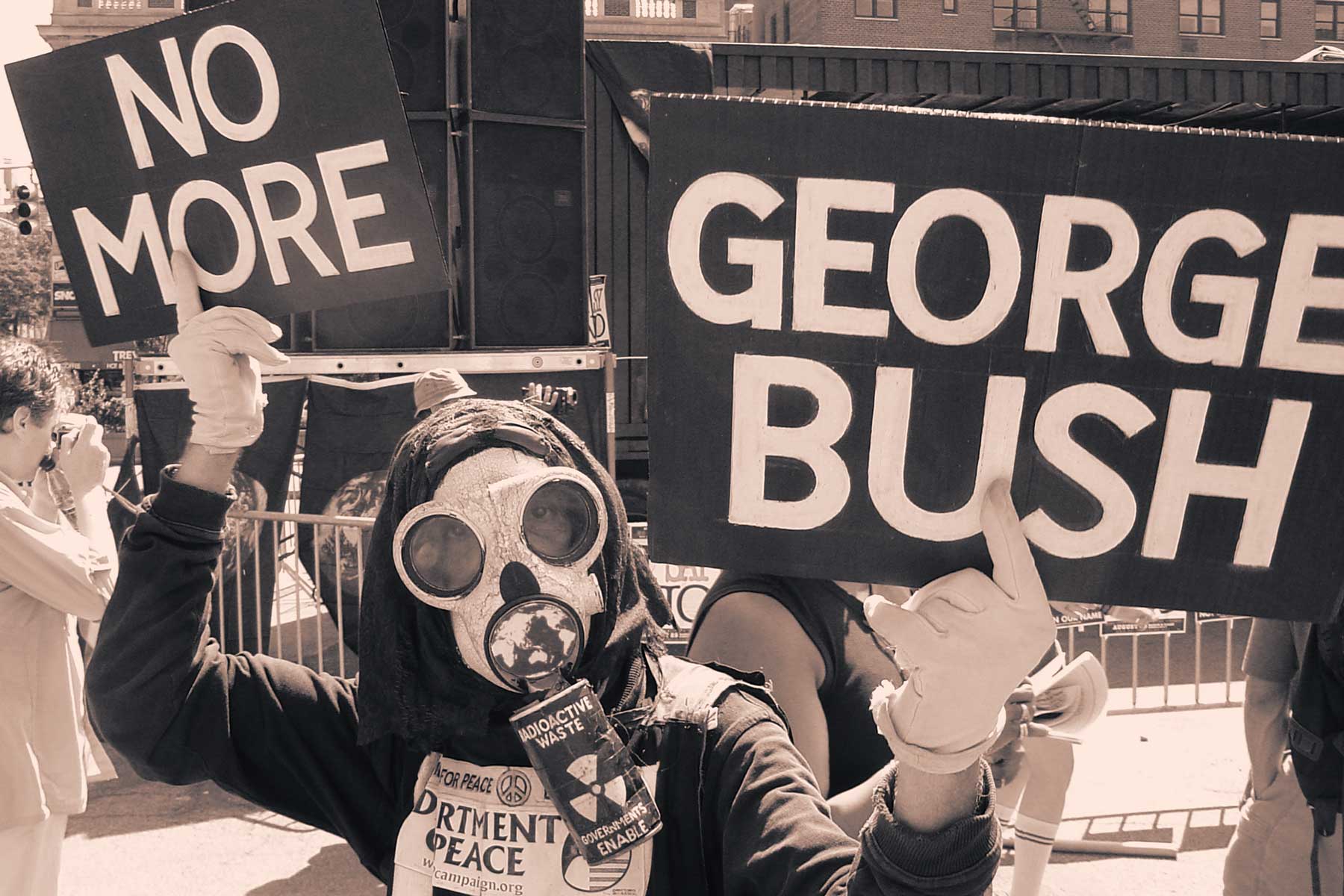 And that's all well and good too even though there seems to be a couple hundred thousand people out here who are generally nauseated by all things George Bush. Not that that necessarily makes them card carrying Dems. I think my favorite sign of the day might be the magic marker on cardboard number that just walked by. "Kerry sucks less," it says.
And then, of course, you have groups like Democracy Uprising that had a protest of their own late last week that wound its way from Columbus Circle through Times Square and down to Union Square. Their mantra ran like this: "No Bush. No Kerry. Revolution is Necessary."
But I'm reading this New York Times piece and there's this spasm of righteousness in it that sticks out kind of weird. The protesters, it seems, are really, really, like, I'm serious here, disorganized.
Listen:
"But as protest organizers scrambled through their last week of preparations, two major themes emerged: the leadership of the protest effort is deeply fractured, and the many groups flooding New York's streets are poorly coordinated and under no central control.

"Members of the largest antiwar coalition, for instance, could not

agree on how to settle arrangements for its demonstration, set for today, and many other groups are practically tripping over one another with competing news conferences, attention-grabbing events and overlapping political messages.

"On Wednesday, for example, as the War Resisters League was downtown announcing plans to march from ground zero this week for a 'die-in' at Madison Square Garden, Al Franken, the comedian and radio host, was in Midtown, amusing reporters with his 'shout- out' project.

"At the same time, a protest billboard counting the dollars spent on the Iraq war lighted up in Times Square, sandwiched between a Sean John clothing advertisement and a Baby Phat billboard showing Kimora Lee Simmons wearing nothing but sneakers and bling."
Which is funny, because after a week of meeting protesters, I've been amazed by how organized things actually are. Food boards, housing boards, medical aid, legal coordination, it's all here.
Hit up Craigslist and you can find a place to stay. Go to Web sites like CounterConvention.org and read about a myriad of groups doing a myriad of things. Hell, head to St. Mark's Church on 10th and Second Avenue for an open house on all things protest.
And if you want some hi-brow or low-brow in your nightlife, there's the Imagine Festival which spent the past year pulling together over 200 events in 70 different venues to create a cultural opposition to the GOP Convention.
But it seems that the rub is that these things aren't coordinated. There's different stuff going on and sometimes that stuff happens at the same time and in different places as other stuff. I mean, how much more disorganized could you be: putting up a billboard that's sandwiched by others in Times Square? Damn rookies.
I went to an anarchist teach- in/press conference at St. Mark's Church last week.
Seriously.
This isn't an oxymoron. For some reason most people I talk to laugh at the concept.
It was a real deal event and camera crews from the evening news were there and so too a panel of anarchist speakers to talk about the egalitarian, utopian vision that is anarchism. We are not, they were saying, the Molotov throwing, people injuring, property destroying rebels that the New York Post paints us as.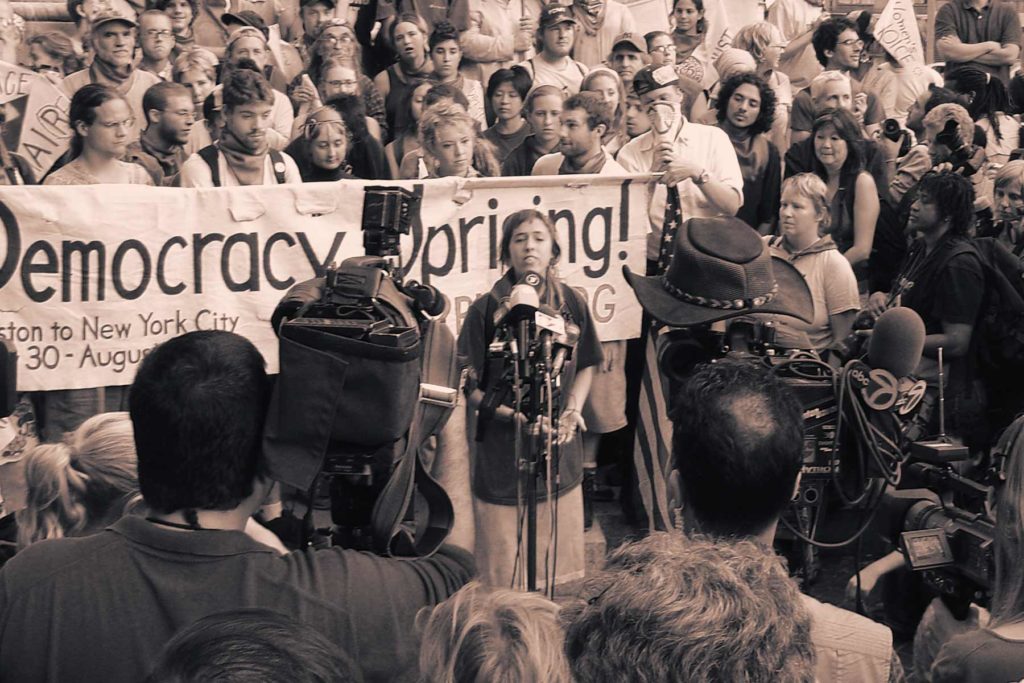 "We want peace, democracy and justice for all," said Kazembe Belagoon, an activist from the Bronx. This, of course, is in opposition to, say, the global capitalist system, which is for eating babies and scorching the earth.
But that's not the point. The point as Cindy Milstein of the Institute for Social Ecology said at the time, is that these groups are all about horizontal rather than hierarchical structures.
And without getting all academic about it, it means that there's room in the tent for the serious and dumb ass among those who are out here today. Bring us your ACLU and bring us your People for the Ethical Treatment of Extraterrestrial Shrimp. It's all good.
The story is that there are hundreds of groups doing hundreds of things. There are organized protests and disorganized protests. There are people chanting in cordoned off police zones and people lying in the streets in acts of civil disobedience. This is the nature of this anti-Bush beast.
And as the sun sets at the end of the day, and a few thousand gather in Central Park's Great Lawn, and drummers bang drums, and dancers dance about, and propagandists propagandize, and an anarchist group starts a civil disobedience teach-in, and a bunch of clowns run about in search of weapons of mass destruction, and Billionaires for Bush carry their cocktail glasses, and a man in a mini-skirt organizes the creation of a human peace sign, and chanters chant, you can't avoid the feeling that this anti-Bush beast is entirely pulled together in its own, unique, rag-tag way.
Read days one through five from the 2004 Republican National Convention.
I'd been working as a editor and journalist based out of Jeddah, but that's another story.back